Rand Fishkin over SEOMoz posted 4 great info graphs on Search Engine Optimization. One struck a chord:
This pie chart shows where SEOs spend most of their time. I wasn't surprised to see the results.
A big part of any interactive venture falls into what I like to call "The Pitch." Convincing people to part with their money is hard to do even if what they'll spend it on will actually make them more money.
Many people who I talk to think SEO is a dark art and they don't understand it. I always spend a good length of time explaining to them what goes into optimizing a site and why it costs what it does.
It's really sad when people look at the price quoted and immediately shut down. It's obvious they weren't expecting the price tag to be so high, but SEO isn't something that just anyone can do. Many people claim to know how to SEO a site and many will have some success at it, but when it's your bottom line at risk do you want to risk it with a fly-by-night operation or do you want to quality.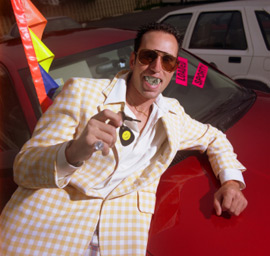 Beware of the "Snake Oil Salesmen"
There are plenty of companies claiming to know how to get you to the top of Google. Many even say they can get you there in a short amount of time and you'll stay there. Like in all industries there are the "snake oil salesmen." These "experts" will tell you anything to get your money.
If one of these "SEO" gurus says that they can get you to the top of Google in a competitive keyword slot in less than 2 or 3 months (or even more) they aren't legit. Also if they claim that SEO is a one time deal, walk away or hang up the phone, because If the keywords you're after are in a competitive market there will always be another company in that space vying for your spot. If you're not constantly tweaking your site and monitoring its position on the search results then you're going to drop. Often times hard and fast.
Finding the right search engine optimization company is like finding the perfect contractor. There are tons out there but only a few gems. Do the proper leg-work and research the firm prior to doing business with them.
Read their blog(s)
Google them and see where they come up in the standings
Check Twitter and see if anything is being said about them
Ask other business owners at events who they use
Search review engines like Local Pages and RateitAll
If you follow these steps (and come up with your own as well) and you'll be less likely to fall prey.
Outsourcing to save money and why not to fall for the trap
One of the biggest arguments  I hear when I pitch SEO to a client is, "I can go abroad and get this for three-quarters of what you're charging." This really gets my blood boiling. Yes you can go to India or some other place in Asia and get it done, but you are dealing with a number of factors that are going against your project. Here are just two big ones:
The language barrier
You might not think that this is a big issue, but it really is. It's not so much the language as the customs and the idiosyncrasies of a different culture. When you deal state-side there is always a chance for miscommunication but it's significantly lowe
You might not be legally protected while dealing with a company abroad
Now I'm not a lawyer, but I've heard horror stories from people who thought they'd save a buck and get their Website designed or optimized abroad. They would sign an agreement that looked okay, but in the end for whatever reason, the foreign company didn't follow through with what they said they'd do and there was little  recourse for the American business owner. This can happen in America, but the legal structure that is in places gives you much more recourse than you would if you dealt internationally.
Now, I understand that money doesn't grow on trees, but "you have to spend money to make money." I know, I know it's a cliche, but it really is true. Dealing with a company in the same country that you're in makes communication easier and makes resolving disputes less painful. In the end isn't it worth it to spend a little bit more but have the piece of mind that you're going to get what you want? I think so.
If the SEOs spent less time having to justify their existence, maybe they'd be able to get their job done more effectively and the price might just go down a bit.
Post your thoughts below in the comments. I'd like to hear what you have to say about this.